Dennis Dunaway's Cold Cold Coffin: Press Kit
Presented by Hard Four Productions and PRP Productions
Synopsis
Based on the song "Cold Cold Coffin" by Dennis Dunaway (Rock and Roll Hall of Fame Inductee, Founding Member of The Alice Cooper Group), this Rock Cinema Short tells the story of a wealthy tycoon who discovers his young bride married him for his Estate. Heartbroken and angry, he exacts revenge by having himself cryogenically frozen in order to outlive her so she can't get his money. (Starring Dennis Dunaway and Calico Cooper.)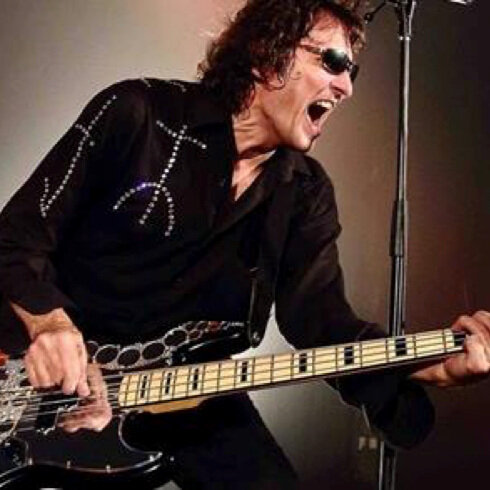 Composer, Writer, Vocals, Bass, Executive Producer, "The Groom"
Dennis Dunaway was inducted into the Rock and Roll Hall of Fame in 2011 as a founding member of the band named Alice Cooper. Dennis is in the Grammy Hall of Fame for co-writing "School's Out." The original Alice Cooper group have sold millions of singles and albums and were on the cover of Forbes for having the largest grossing tour in 1973 over Led Zeppelin and the Rolling Stones. The Alice Cooper group is in the Guinness Book of World Records for largest indoor audience estimated up to 148,000 in Sao Paulo, Brazil in 1974. The Billion Dollar Babies album reached number 1 in America and Britain, and the group are recognized as the innovators of theatrical rock shows, which included giant balloons, hangings, snakes and spidery eye makeup. Dennis' book, Snakes! Guillotines! Electric Chairs!: My Adventures In The Alice Cooper Group is in it's 3rd printing and has been translated into German. The audiobook, narrated by Dennis, is available at Audible.com. The group recorded 3 songs on Alice's Welcome 2 My Nightmare album, and re-recorded "School's Out" with Joe Perry and Johnny Depp for the Hollywood Vampires album. They also recorded several songs on Alice's Paranormal album. The group toured the United Kingdom in November 2017. The group's movies are Diary Of A Mad Housewife, Good To See You Again: Alice Cooper, and Super Duper Alice Cooper. A new film Live From The Astroturf, Alice Cooper won Best Documentary Short at the Phoenix Film Festival and Audience Award for Best Documentary at the Dallas International Film Festival.
"The Bride", Choreographer
Calico Cooper, daughter of shock rock legend Alice Cooper, got her start in the entertainment industry when she was hired by her father at age 18 to choreograph and bring to life his nightmarish characters on stage for his Brutal Planet world tour. Eleven world tours and eight full stage shows to her credit later, she had carved a niche and a massive fan base for herself in the horror industry having become infamous for playing alongside Alice as "Nurse Rosetta" and "Cold Ethyl." Voted one of MAXIM'S "20 hottest rock star daughters," she moved to Los Angeles at 20 and began gaining notoriety filming indie horror movies and short films. Excelling in comedy, she scored a role for herself as the ball-busting, sexually manipulative boss Lila Black in the multi-award winning comedy series Bloomers. Cooper Continued her success with a dark film about a bipolar college student entitled Thirty Proof Coil. The reviewers raved, "Cooper is on screen for nearly every second of the film's 120-minute running time, and there is not a wasted moment. She delivers a sucker punch of a performance, with bristling physicality and a desperate charm."
Sisters and New York City natives Tish and Snooky Bellomo have been America's darlings of creative hair color and punk rock pioneers and tastemakers, since their days in the original Blondie band line-up in the mid 70s. Opening America's first Punk Boutique in 1977, they went on to start the world's first alternative beauty brand, Manic Panic®, leading the hair color revolution and changing the concept of what beauty is forever!
For over 40 years Tish and Snooky have delivered their rock n' roll lifestyle to the world through their iconic brand. Their legendary hair color, which has remained 100% Vegan and Cruelty-Free since its inception, has helped celebrities including Cyndi Lauper, Rihanna, Lady Gaga, Katy Perry, Cardi B, Kylie Jenner and Kim Kardashian stand out in the headlines.
Tish and Snooky have been dubbed "The Martha Stewarts of Punk", and still rock the Manic Panic lifestyle. "We don't just sell it, we live it!" has been their motto for over 40 years. To this day, Tish and Snooky continue to perform regularly, singing with some of music's biggest and icons including the all-star band Blue Coupe, consisting of Rock and Roll Hall of Famer Dennis Dunaway (founding member of the Alice Cooper group) and Albert and Joe Bouchard, founding members of Blue Oyster Cult.
Laura Roth has appeared on television, radio and the stage in a variety of singing and acting roles. Amazingly versatile, she has been called a "show stopper" by the New York Post and "one of the world's leading cabaret singers" by Show Business newspaper. She has performed extensively in the United States, including Manhattan, both off Broadway and in well-known clubs. Audiences have enjoyed her remarkable range in London and Paris and as featured artist with a symphony orchestra. Her Public Radio show was broadcast live to seven States. She was personally selected by Jim Nabors to open his East Coast concert. Her holiday shows were performed before thousands at the Hilton Casino Hotel and the Tropicana Casino Resort in Atlantic City.
Laura has intensely studied the work, mannerisms and clothing styles of the greatest female entertainers of the twentieth and twenty-first centuries. Combining equal parts of music, comedy and acting, and calling upon her own large personal collection of vintage clothing, arranged by decades, together with 125 stage costumes specifically designed for her, Laura Roth performs year-round in shows appealing to all ages. She is known for the most powerful characterization of the immortal Judy Garland to be found on any stage.
Russ spent most of his percussive years playing and recording with various rock and r&b bands in the Tri-State NY metro area. He's played many small clubs in many small towns to big theaters in big towns. Russ has also recorded and toured with the Dennis Dunaway Project and the 5th Ave Vampires who both have opened for Alice Cooper on multiple dates through out the east coast of the US and American Rock Celebration, which included Dennis, Jimmy Kunes and John Girardi. Russ has also been filling the drum chair for the Richie Scarlet Band since 2010 and is on his "I Plead the Fifth" as well as his upcoming release. He's also working with Dennis and Nick Didkovsky as part of the Snake Charmers and on the Dennis's forthcoming solo release. He's played and recorded with many well known and respected players such as Joey Molland, Denny Laine, John Regan, Ron "Bumblefoot" Thal, Ian Hunter, Dez Cadena, Wayne Cobham, Arno Hecht, Joe Bouchard, Earl Slick, Joe Lynn Turner, Mark Hitt and Leslie West among others.
Russ states that he's been very fortunate to work with one of the most dedicated, talented, knowledgeable musicians he's had the pleasure of meeting. Dennis and wife Cindy have been not only good friends, but mentors. I look forward to continued playing and collaboration.
Russ Wilson performing at Chance Theater
Nick Didkovsky is a guitarist, composer, band leader, and software developer. He founded the avant-rock band Doctor Nerve, the metal bands Häßliche Luftmasken and Vomit Fist, and is a member of the Fred Frith Guitar Quartet. He presently resides in New York City where he writes scientific software, composes for his own bands and other ensembles, and teaches algorithmic music composition at New York University. He has composed for Bang On A Can All-Stars, Meridian Arts Ensemble, ETHEL, and others. His compositions and guitar work appear on over 50 records including Alice Cooper "Paranormal" and Bang On A Can "Cheating Lying Stealing" (SONY Classical). TV credits include Law and Order Special Victims Unit ("Bad Blood"). His Punos Music record label serves up his most extreme musical projects. Awards include US Artists International, Meet the Composer, NY Foundation of the Arts, and the Aaron Copland Recording Fund. He has published in Music Theory Spectrum, Leonardo Music Journal, and the International Computer Music Conference. He the primary developer of the computer music language Java Music Specification Language (JMSL), which is used by composers worldwide.

Ingo Geirdal & Silli Geirdal
Ingo Geirdal and Silli Geirdal are the founding members of one of Iceland's most popular and powerful hard rock bands, DIMMA, with which they have produced 11 studio and live albums so far.
The brothers have been hardcore Alice Cooper Group fans since childhood and have collaborated with Dennis on many projects, including songs on DIMMA albums as well as other recordings.
Ingo & Silli also played with original Alice Cooper guitarist Michael Bruce on the albums Halo of Ice and The Second Coming of Michael Bruce - Alive & Re-Cooperated, both of which they recorded, mixed, and produced. As well, the brothers contributed to the Alice Cooper Group box set, Old School.
Besides music, Ingo is the artist who created the pencil drawing of the late, great Glen Buxton that is featured in Dennis's book Snakes! Guilotines! Electric Chairs! My Adventures In The Alice Cooper Group and in the documentary film Live From The Astroturf, Alice Cooper.
Ingo & Silli Geirdal mixed the official version of Cold Cold Coffin.
DIMMA Bergmál - Live 2017 (video)
Director, Executive Producer, Visual Story, "The Clown"
Brian has Directed and Produced numerous Film/TV projects including "Henry the 9th," "The Pearl," "SCOTUS and the City," "KMIC," and "Reflection." He has also Directed several theater productions including the Off-Broadway Premiere of M.G.W., as well as Sold, The Homecoming, One for the Road, The Crucible, Refuge, Kerry & Angie, The Homeless Secretary, Fear of Rats, Godspell, Kindertransport, and The Dutchman. He has also taught Directing for over 10 years at Montclair State University, as well as Farleigh Dickenson University. Brian is a veteran stand up comedian, having appeared on the TV series, Gotham Comedy Live, hosted by Chris Titus. He has performed in clubs all over the country including Caroline's on Broadway, Gotham Comedy Club, Stand Up NY, Dangerfields, Borgata Casino, Revel Casino, Mohegan Sun Casino, and more. Brian has opened for and worked with legendary comedians such as Paul Reiser, Gilbert Gottfried, Jim Breuer, Sebastian Maniscaclo, Patrice O'Neal, and Tom Rhodes.
Executive Producer, "The Priest"
Sean J. Quinn co-founded the theatre company Group of Eight, which was comprised of eight actors and writers including actor Dolph Lundgren (The Expendables, Rocky IV) and produced plays by Jane Anderson, Stuart Spencer, JD Zeik, and Craig Lucas. Quinn's credits include productions at The Living Theatre, EST and appeared in the indie cult film Gravesend, presented by Oliver Stone. During his tenure as one of the Lead Engineers for The Nederlander Producing Company of America, Quinn studied playwriting at NYU Tisch School of the Arts. His plays have been read at EST, Naked Angels and his play M.G.W. premiered Off Broadway at the Lion Theatre. He has written several screenplays, published short stories, and developed scripts for Vin Diesel's production company, One Race Films. Credits of his company, Hard Four Productions, includes "Henry the 9th," "The Pearl," "SCOTUS and the City," "Reflection," "Win," Cold Cold Coffin, and the upcoming Off Broadway play, "Sold."
PRP Productions (Producers)
Director of Photography, Executive Producer, Visual Story, "The Doctor"
Peter Perenyi's output is fluid, versatile, and always impressive. Born and raised in (and having defected from) Budapest, Hungary, he originally started his media career at the Heilbronner Theater in the late 70s as a lighting technician in what was known then as West Germany. In the early 80s, he made his transition from stage to screen as a film student (at North Sydney Technical College for four years) and as an actor in Sydney, Australia. His sensitive approach allowed him to gain popularity Down Under as an upcoming talent, featuring in many nationally broadcast, award-winning ads.
Five years later he moved to Toronto, Canada and worked behind the camera on big-budget national commercials. Eventually migrating to New York in 1991, he first made his living on medical translations from English to Hungarian. He has also translated three major-budget Hungarian films to English.
Peter now has over three decades of camera, lighting, producing, writing, and editing experience under his belt. He was post production technical association on a thirteen-part TV documentary series American Cinema (hosted by John Lithgow) for PBS, and later he worked as camera operator on StarTalk w/ Neil DeGrasse Tyson, a television series on National Geographic. During his 26-episode run there under the direction of Jaron Berman, the show was nominated for three Emmys and had such prestigious guests as Buzz Aldrin, David Byrne, Herbie Hancock, Jeremy Irons, Bill Clinton, and the list goes on. He has also lit and shot over 150 highest-profile executive interviews.
Peter has always led with unparalleled energy, focus, and quality. Alone in 2019, his cinematography (and some directorial work), alongside Cold Cold Coffin (which is currently having rounds of international festival success) has recently led him to significant festival recognition, such as Steve Conte's Gimme Gimme Rockaway (opener to the GDIFF (Golden Door International Film Festival) and Rag, directed by Yuval Sussler (winner of the MFF (Manhattan Film Festival) and the BAFF (Big Apple Film Festival), also selected by the BIFFMA (Berkshire International Film Festival)). When Peter isn't shooting, he is either painting or composing music with a message for the world.
Editor, Producer, Steadicam Operator
Orion Perenyi, son of Peter Perenyi, is an editor and all-rounder in the world of video and audio production, and having grown up on the cusp between the analog and digital ages, he has a fondness for both the forgotten and new. Having grown up around a plethora of A/V and musical equipment, he has shot, cut, and color corrected live music sessions, theater recordings, music videos, webseries, art films, and more! Orion has taken many other roles within the realm of media, such as assistant camera, sound engineer, large format printer, stage actor, and musician. He is the lead singer and guitar/telephone-mic player of Daisy Raygun, a rather unknown band that is patiently lurking about NYC and the Lower Hudson Valley, waiting to be stumbled upon...